Could the link between EBV and MS be an association and not causal? #ResearchSpeak #MSBlog #MSResearch

"We have know for sometime known that elevated antibodies to the EBV protein EBNA-1 increase your risk of getting MS. This particular EBV protein is part of the complex that keeps EBV in its latent, or sleeping, phase. Why an immune response to this particular EBV protein is linked to EBV risk is unknown. The study below suggests that there is a particular genetic locus, or area, in the genome that increases your antibody response to EBNA-1. Interestingly, this locus also increases your chances of getting MS. This is a novel finding and opens up new ways of looking at genetic risk."
"How we bring all this together in a simple causal pathway is difficult; I am finding it perplexing. Could the antibody response to EBNA-1 simply be an association and not part of the causal pathway? In other words what increases your risk of getting MS increases your antibody response to EBNA-1. The latter however can't explain the other observations around the timing of EBV infection and onset of MS and the observation that if you are EBV negative your chances of getting MS are close to zero."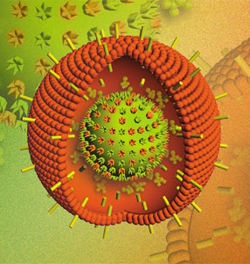 "I remain convinced that EBV is the cause of MS and we need to pursue our aims of targeting the virus with a vaccination strategy, antiviral drugs and drugs that deplete B cells and plasma cells. This is why we launched the Charcot Project."

Epub: Zhou et al. Genetic loci for Epstein-Barr virus nuclear antigen-1 are associated with risk of multiple sclerosis. Mult Scler. 2016 Jan 27. pii: 1352458515626598.

BACKGROUND: Infection with the Epstein-Barr virus (EBV) is associated with an increased risk of multiple sclerosis (MS).

OBJECTIVE: We sought genetic loci influencing EBV nuclear antigen-1 (EBNA-1) IgG titers and hypothesized that they may play a role in MS risk.

METHODS: We performed a genome-wide association study (GWAS) of anti-EBNA-1 IgG titers in 3599 individuals from an unselected twin family cohort, followed by a meta-analysis with data from an independent EBNA-1 GWAS. We then examined the shared polygenic risk between the EBNA-1 GWAS (effective sample size (Neff) = 5555) and a large MS GWAS (Neff = 15,231).

RESULTS: We identified one locus of strong association within the human leukocyte antigen (HLA) region, of which the most significantly associated genotyped single nucleotide polymorphism (SNP) was rs2516049 (p = 4.11 × 10-9). A meta-analysis including data from another EBNA-1 GWAS in a cohort of Mexican-American families confirmed that rs2516049 remained the most significantly associated SNP (p = 3.32 × 10-20). By examining the shared polygenic risk, we show that the genetic risk for elevated anti-EBNA-1 titers is positively correlated with the development of MS, and that elevated EBNA-1 titers are not an epiphenomena secondary to MS. In the joint meta-analysis of EBNA-1 titers and MS, loci at 1p22.1, 3p24.1, 3q13.33, and 10p15.1 reached genome-wide significance (p < 5 × 10-8).
CONCLUSIONS: Our results suggest that apart from the confirmed HLA region, the association of anti-EBNA-1 IgG titer with MS risk is also mediated through non-HLA genes, and that studies aimed at identifying genetic loci influencing EBNA immune response provides a novel opportunity to identify new and characterize existing genetic risk factors for MS.